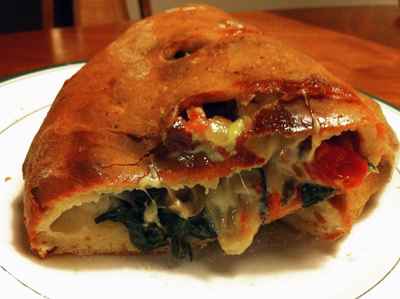 Charcutepalooza is a yearlong project I'm participating in to make recipes from Michael Ruhlman's Charcuterie: The Craft of Salting, Smoking, and Curing. For more information, see my introductory post.
Making fermented foods at home is kind of like taking a trust-fall.
There's something deeply terrifying about leaving some perfectly good food out for days or weeks to, essentially, spoil, and then eating the results. Sauerkraut or yogurt is unnerving enough, but fermenting raw meat is something altogether different.
That's probably why dry-curing ended up as the second-to-last Charcutepalooza challenge.
This time, I went with peperone. No, that's not a typo; that's the original Italian ancestor of the preservative-ridden junk we put on pizzas called pepperoni. In reality, the name difference is probably a good thing, as the two couldn't be more different.
Real peperone has a lovely tanginess with a slight sweet-spicy backbone. It's like some kind of magical cross between pork and a half-sour pickle. (Plus, you get to use something called Bactoferm F-RM-52, which sounds like the bacteriological agent that brings on the zombie plague in a sci-fi movie.)
I carefully weighed my finished sausages and had good control over the temperature in my drying room (AKA the closet of my spare bedroom), but I didn't measure or attempt to control humidity. When my sausages lost the required 30 percent of their weight in a week—half the time it was supposed to take—I was worried I had screwed everything up.
But I tentatively cut a slice and ate it. It tasted good, and my peperone had a nice even, leathery texture, which means I managed to avoid the dread case hardening. And I'm still alive, so I didn't breed any botulism. Hooray!
So what to do with peperone? A little goes a long way; I've been eating lots of mine on Ritz crackers, and it'll definitely be making an appearance at the final-Charcutepalooza-project meat party I'm throwing in a couple weeks.
You could, of course, use it on pizza as well, but I took a slightly different tack and made calzones. These things are great fridge-clearers: You can throw in whatever's lying around, from half a bag of wilted salad greens to sad half-onions in zip-top bags to random hunks of cheese you need to use before they go moldy to single slices of deli meat you don't have enough of for a sandwich.
So that's where my Odds-&-Ends Calzone recipe comes from. I used the dough from Kenji Lopez-Alt's Serious Eats recipe as a starting point and just kinda went crazy.
Odss-&-Ends Calzone
Adapted from Serious Eats
Makes 4 calzones
1 tbsp. (or 1 envelope) active dry yeast
13 oz. (1 1/2 cups plus 2 tbsp.) lukewarm water
22 oz. bread flour
4 tsp. sugar
3 tsp. salt
1/4 cup olive oil
1/2 onion, chopped
2 garlic cloves, minced
4 oz greens (spinach, salad mix, whatever), chopped
4 oz. peperone, diced
1/2 cup  olives, pitted and roughly chopped
1 (14.5-oz.) can diced tomatoes, drained well
6 oz. melty cheese (mozzarella, provolone, cheddar, whatever), shredded
2 oz. Parmesan cheese, grated
Combine the yeast and water in the bowl of a stand mixer fitted with the dough hook attachment. Add the flour, sugar, salt, and olive oil, and mix on low speed until the dough comes together. Increase the speed to medium and knead for about 1 minute. Transfer the dough to a floured surface, knead by hand 1 or 2 times, and form into a ball. Return to the bowl, cover, and let rise until doubled, about 1 hour.
Meanwhile, saute the onion in a small skillet over medium-high heat until translucent, about 3 minutes. Add the garlic and cook about 30 seconds more. Transfer the onion and garlic to a large bowl and add the greens to the pan. Cook until completely wilted, about 2 minutes. Drain very well, squeezing to remove as much liquid as possible, and add to the bowl. Add the remaining ingredients and stir to combine. Season with salt and pepper to taste.
Place a pizza stone in the oven and preheat to 500° F. (The longer you can let the oven heat, the better. Give it at least 20 minutes).
Punch down the dough and divide into four pieces. On a floured surface, stretch one piece into a rough circle about 8 inches in diameter. Place a quarter of the filling mixture on half of the circle, leaving about half an inch around the edge. Fold the dough over, crimping to seal the edge, and cut vent slits in the top. Repeat with the remaining dough to form 4 calzones.
Carefully slide the calzones onto the pizza stone. Bake until well browned and crisp, about 15 minutes. Remove from the oven and let cool for 5 minutes before serving.