The best part of being a food writer/blogger is that sometimes you get a free box of local meat.
In October, a couple friends of mine launched Freshfully, an online grocery store for local food in Birmingham. It's a fantastic idea: Farmers, ranchers, beekeepers, dairies, and other producers offer their stuff online, and you get to buy it without being limited to a once-a-week farmers' market. (Each vendor sets up pick-up or delivery on their own.)
The site's picking up new vendors at a solid pace. It recently added Johnson Farm, which raises grass-fed beef, Berkshire pork, Katahdin lamb, and chicken in Elba, Ala., and the Freshfully folks offered me a box of lamb from the farm's first Birmingham delivery to "review" on the blog.
Besides going home with ground lamb, lamb steaks, a lamb roast, and a couple beautiful rib chops, I also got to meet farm owner Drexel Johnson, a cowboy-hatted, pick-up-truck-driving, grizzled rancher who fits the part perfectly. (He also tells a hilarious story.)
On to the eating. I'm not a huge lamb-cooker, so my experience is relatively limited, but I've really enjoyed this lamb. The chops and steaks have nice marbling, and the meat has just a slight hint of gaminess that marks it as lamb without going overboard. The stuff's not cheap, though: A six-pound box costs $56. (To be fair, you're paying a big premium for local meat—and that price includes the cost of driving the stuff up from Elba.)
Since it's been freezing outside, we decided to make something in the slow-cooker with a couple shoulder chops. And I love Asian flavors in everything, so I sort of created a hodge-podge of your standard root-vegetable-heavy slow-cooker braise with soy sauce, rice vinegar, mirin, ginger, and sesame oil. This is not a culturally authentic recipe by any means, so I'm calling it "vaguely Asian."
It came out beautifully. With a little sweetness, heavily caramelized veggies, and fall-off-the-bone meat, it's a perfect winter dish. It also cooks long enough that you can set everything up in the morning, go to work, and come home to steaming-hot dinner. (You can cook the rice when you get home, or cook it ahead of time and microwave to reheat).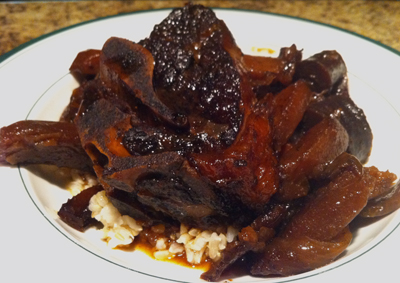 Vaguely Asian Slow-Cooker Lamb Chops
Serves 2
1 to 1 1/2 lb. lamb chops (2 large or 4 small)
2 to 3 large carrots, halved lengthwise and sliced
1 to 2 large turnips or potatoes, peeled and roughly chopped
2 small onions, roughly chopped
1 tbsp. minced fresh ginger
1/3 cup soy sauce
1 tbsp. rice rinegar
2 tbsp. mirin
1 1/2 tbsp. honey
1 tsp. sesame oil
1 cup chicken stock
1 1/2 cups cooked brown rice, hot
Heat a small skillet over high heat. Season the lamb chops on both sides with salt and pepper, and sear on both sides until nicely browned, about 30 seconds per side. Place in a slow-cooker and add the remaining ingredients except the rice. Cover, set the slow-cooker to low and cook until the lamb is completely tender, 7 to 9 hours. (If possible, turn the lamb over halfway through cooking and remove the lid for the last hour or so of cooking to let the liquid reduce somewhat.)
Divide the rice between two bowls and top with the lamb and vegetables. Spoon the cooking liquid over the top.