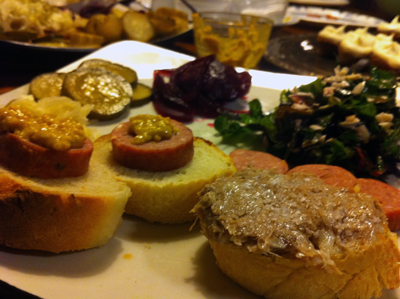 Charcutepalooza is a yearlong project I'm participating in to make recipes from Michael Ruhlman's Charcuterie: The Craft of Salting, Smoking, and Curing. For more information, see my introductory post.
So this is it. The end of a year of meat. A lot of pig parts have passed through my messy kitchen on my journey from pancetta to peperone, and I feel like a much better cook for it.
I've always been into DIY, and I'd even done some charcuterie before this challenge got started, but it had always been a huge production, taking days of preparation and far too much expense for specialized equipment and obscure cuts of meat. And that's so not the point.
Charcuterie is about preservation, whether that's a poor farmer making the hog he slaughters in the fall last through the whole year or a high-end chef pickling some summer vegetables so she can use them in the winter.
And preserving food is a necessity. One cool thing I've learned from this project is that charcuterie is where all the world's cuisines come together. German weisswurst, Polish kielbasa, French andouille, and American hot dogs are all essentially the same thing, the only difference being spices. So are Italian salami and Chinese lap cheong. Heck, the recipes for sauerkraut and kimchi are identical save for one ingredient!
Other things I've learned:
The final Charcutepalooza challenge was to throw a party using my newfound skills and recipes. And throw one I did.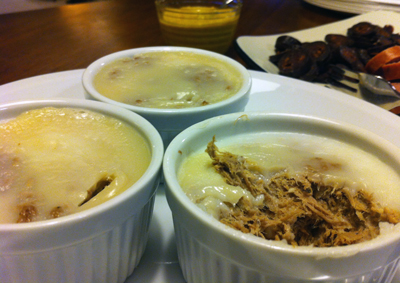 Using the local lamb I came into recently, I made the lamb rillettes at left, along with hot-smoked lamb-and-pork andouille. Immediately after cooking, the rillettes was stringier than I would have liked, but after topping with delicious pork fat and chilling, it became much more spreadable. It was great on top of sliced, toasted Roasted Garlic Baguette (recipe below).
The menu also included peperone, sauerkraut, and a mess of pickles: dill, a sweet-and-hot Wickles-esque recipe, and sweet-sour beets. There was also some whole-grain mustard and Kale Salad with Pecorino and Lemon. Nadria even made vegan carrot-cake cupcakes with "cream cheese" frosting, to counteract all that meat, I guess.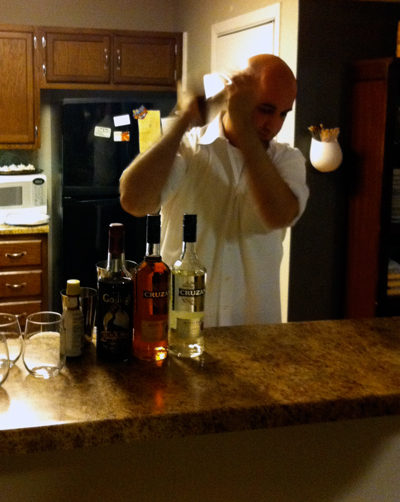 And then there were the drinks. After I invited Angel Negrin, formerly of Bettola and one of Birmingham's best bartenders, he volunteered to make cocktails. Armed with bottles of white, dark, and blackstrap rums, limes, simple syrup, and some Angostura Bitters, he shook up rounds of very traditional Daiquiris. The sourness of the drinks was the perfect foil to all that fatty, salty tastiness.
Roasted Garlic Baguette
Makes 3 baguettes
3 heads of garlic
Olive oil
2 cups warm water
2 tbsp. active dry yeast
24 oz. bread flour
1 tbsp. salt
Preheat the oven to 400°. Peel the outer layers from the garlic (do not separate the individual cloves) and slice the heads in half horizontally. Place on a sheet of aluminum foil and drizzle with a little olive oil. Wrap in the foil, sealing tightly, and bake for 45 minutes to 1 hour, until the cloves are soft but not mushy. Remove from the oven, wait until cool enough to handle, and squeeze the roasted cloves into a small bowl. Set aside. (If desired, you can store, covered, in the refrigerator for up to 3 days.)
Add the water and yeast to the bowl of an electric mixer fitted with the paddle attachment and let stand for 2 to 3 minutes. Add the flour, salt, and reserved garlic, and mix on low speed until the dough comes together. Increase the speed to medium and knead for 10 minutes, adding additional flour if the dough is too sticky. Remove from the mixer, knead briefly by hand on a lightly floured surface, and form into a ball. Place back in the mixer bowl, cover with a damp towel, and let rise for 1 hour.
Punch the dough down, knead briefly, and divide into three equal pieces. Roll each piece into a long log shape and place on a baguette pan or baking sheet lined with a Silpat or parchment. Turn the oven to 450° (the dough will rise a bitwhile the oven preheats). When the oven is hot (about 15 minutes), cut several slashes in the top of each loaf and bake for 35 to 40 minutes, until the loaves are nicely browned and sound hollow when tapped.
—
And that's it. Charcutepalooza is done. No more grinding, curing, hanging, or smoking assignments to look forward to. (Unless I win the grand prize. Judges, vote for me!) Many, many thanks to Mrs. Wheelbarrow for putting this whole thing together, Food52 for hosting, Bob del Grosso for answering my desperate Twitter inquiries on the dreaded case hardening, and Michael Ruhlman for inspiring the challenge and being an all-around kitchen inspiration himself.