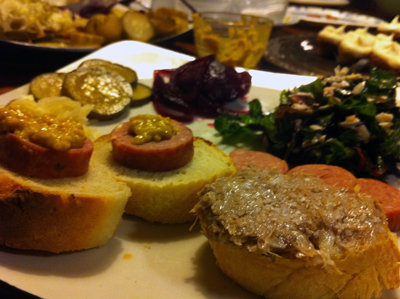 Charcutepalooza is a yearlong project I'm participating in to make recipes from Michael Ruhlman's Charcuterie: The Craft of Salting, Smoking, and Curing. For more information, see my introductory post.
So this is it. The end of a year of meat. A lot of pig parts have passed through my messy kitchen on my journey from pancetta to peperone, and I feel like a much better cook for it.
I've always been into DIY, and I'd even done some charcuterie before this challenge got started, but it had always been a huge production, taking days of preparation and far too much expense for specialized equipment and obscure cuts of meat. And that's so not the point.
Charcuterie is about preservation, whether that's a poor farmer making the hog he slaughters in the fall last through the whole year or a high-end chef pickling some summer vegetables so she can use them in the winter.